We performed a Coworking Demand Analysis for a downtown Portland, Main neighborhood to understand what is and is going to be the most in demand types of coworking. We have some exciting findings for you.
Our Data-Driven Process
DenSwap's unique formulas and tool sets use the dynamic datasets that McDonald's, Target, and Starbucks use to plot out their next locations. We've used our experience of operating coworking spaces for 12 years and as market researchers to develop a process and algorithm specifically for the coworking and commercial real estate industry. The datasets uses over 67 detailed buyer and lifestyle profiles and we've correlated each profile with successful coworking markets and forward looking trends. Each profile is graded on their likelihood of joining a coworking space and the type of coworking space they would be most interested in.
All of that data is combined with other local factors (density, mode of transportation, education, etc.) that determine the likely success and size of coworking spaces that can be sustained in the area. The result projects how much coworking space can be sustained in the area the type of coworking (High-end Flex, Mid-range Flex, Executive Suite, etc) that will be most in demand.
Santa Barbara Zip Code 93117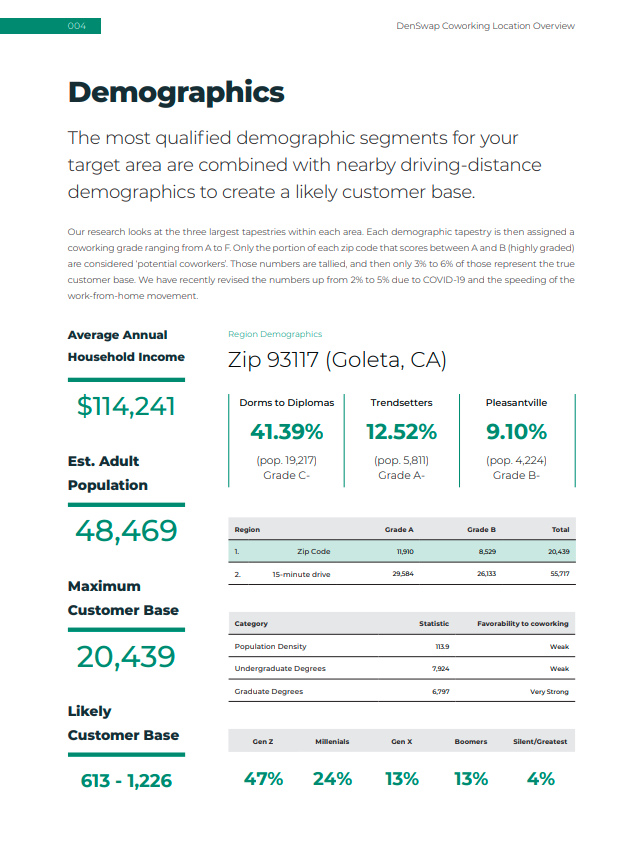 We focused on the neighborhood of Santa Barbra near Isla Vista neat the coast. It's the neighborhood DenSwap has a 7,500 SF listing for sale for only $85,000. The zip code is 93117 and it had a total of 20,439 of people that would likely be able to join a coworking space. The 15-minute area surrounding the neighborhood had a 55,717 people. The likely coworking base for the neighborhood is 1,226 customers within the zip, but 2,614 within an easy drive.
The average income for the zip code is $114,241 (average indicator for coworking success). the population density is weak for the zip code, and the number of undergraduate degrees was a another weak indicator, but the ratio of graduate degrees was a very strong indicator. The split of the generations living was very skewed to Gen Z due to the university making up 47% of the zip code.