New York's capitol is active all year place because of it's importance in one of the nation's largest states and governing the financial hub of the world. Based on our Demand Analysis the city can support over 83,000 SF of flexible office space. If we were to start a space a modern executive suite would be highly recommended.
The city is currently home to 7 spaces, but only is a national chain or large enough to accomodate teams or with modern technology and amenities. Most of the existing spaces are neighborhood spaces less than 8,000 serving a specific niche or vibe.
Our Data-Driven Process
DenSwap's unique formulas and tool sets use the dynamic datasets that McDonald's, Target, and Starbucks use to plot out their next locations. We've used our experience of operating coworking spaces for 12 years and as market researchers to develop a process and algorithm specifically for the coworking and commercial real estate industry. The datasets uses over 67 detailed buyer and lifestyle profiles and we've correlated each profile with successful coworking markets and forward looking trends. Each profile is graded on their likelihood of joining a coworking space and the type of coworking space they would be most interested in.
All of that data is combined with other local factors (density, mode of transportation, education, etc.) that determine the likely success and size of coworking spaces that can be sustained in the area. The result projects how much coworking space can be sustained in the area the type of coworking (High-end Flex, Mid-range Flex, Executive Suite, etc) that will be most in demand.
Albany, New York Zip Code 12205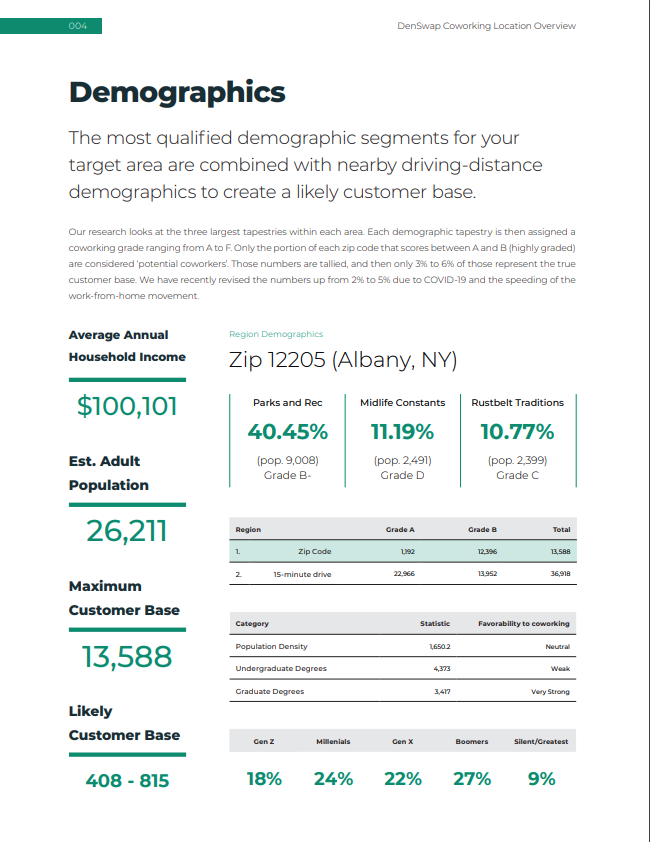 The zip code covers the neighborhood along Interstate 90 and north of I87. In a larger custom feasibility analysis we'd likely include the entire city and any relevant suburbs within the 'coworking radius' that would fine tune the numbers and our recommendations. The area that we covered has a total of 26,211 and 13,588 people that would likely be able to join a coworking space. The 15-minute area surrounding the neighborhood has 36,918 people that could be potential coworking members. The likely coworking base for the zip code is estimated to be between 408 to 815 customers within the zip, but over 1,661 within an easy drive.
The average income for the zip code is $100,101 (average indicator for coworking success), the population density is neutral for the zip code, and the number of undergraduate degrees is a weak indicator, but the indicator is strong when considering graduate degrees. The split between graduate degrees and undergraduate degrees is common in university towns and smaller state capitols.
How much square feet can be supported?
The DenSwap team estimated 30,573 square feet of flexible office space could be supported in the zip code, but a total of 83,000 in Albany. The recommend coworking model is Modern Executive Suite and the suitable property types are office towers, office parks, and shopping centers. t.