Marketplace Platform Guide & FAQs
The DenSwap platform is a web application that connects coworking buyers and sellers, and allows the entire sale process – discovery, due diligence, contract, escrow, and close – to happen online in one custom-built platform made specifically for coworking and flex spaces.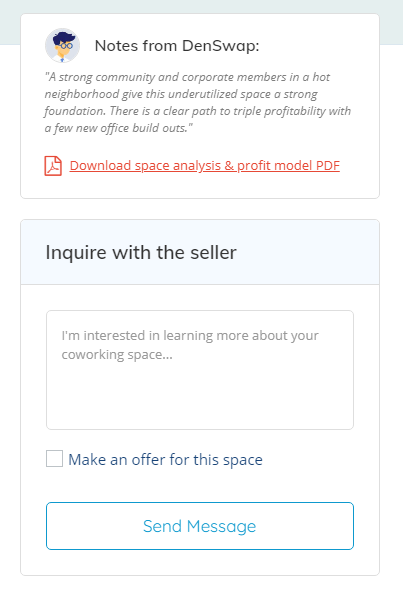 Discovery
For both buyers and sellers, the first step in using DenSwap's Marketplace Platform is to create an account with DenSwap. Please be sure to read the Terms of Service before creating an account.
Potential buyers have the ability to submit a buyer interest form as part of the account creation process – this will go straight to DenSwap's buyer services team, and we'll reach out if we have any listings (now or in the future) that match what you're looking for. About half of our business listings are private or offered directly to our buyer's list before being published on the site, so be specific about what you're looking for and we'll work with you. We won't sell your information or spam you with incessant emails.
Creating a DenSwap account will allow you to message coworking sellers, save listings to a "Favorites list", and download optimization reports (if available) on coworking listings. If you're a coworking owner, you'll also be able to create a business listing after registration.
Communication, Document Vault, and Offers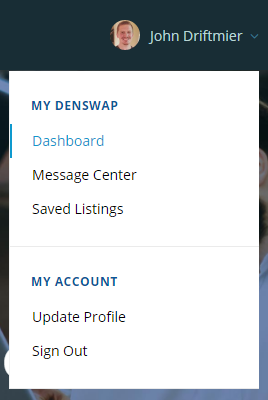 The DenSwap Marketplace is more than a series of front-end listings – it's an all-in-one app to help you go through the entire process from first contact to final handoff.
Logged-in users can reach the DenSwap dashboard by clicking on their username in the upper-right corner. A dropdown menu will show you additional quick links to the application dashboard, including the Message Center and Saved Listings.
When buyers are ready to reach out and inquire about businesses for sale, inquiries on DenSwap's communication platform – your one-stop dashboard for all purchase inquiries. Sellers are able to keep all active threads in one place and compare potential buyers side-by-side. You and the buyers are able to discuss information, upload documents to our secure legal document vault, and receive offers. As a third-party, we keep all discussion in one place to ensure you have legal protection in case of a dispute during the contract and escrow process.

Offers will come in through the DenSwap platform and saved so sellers can review side-by-side. When you have an offer you're ready to accept, you'll accept the offer in your DenSwap dashboard and sign the Letter of Intent to move forward to the due diligence process.
Escrow & Close
Once the due diligence portion is completes and the contract is signed, the buyer puts money into a escrow bank account while the seller transfers all the assets or the shares of the business to the buyer. DenSwap includes a built-in escrow service inside the platform and is included for free as part of our service to buyers and sellers. This escrow platform verifies the identity of both parties, sets up the bank transfer, and can arbitrate in case of a dispute so all parties are protected. Once the company transfer is completed, the escrow company releases the funds to the seller and the sale is marked in the platform as closed. DenSwap will retain a copy of all transfer and communications in our database for future legal reference by either party, if required.
FAQs
What does DenSwap's Marketplace help with?
How much does it cost to list on DenSwap?
How should I value my coworking space?
Why would I use DenSwap?
How can I contact DenSwap?
What should I prepare for as a seller?
Do you provide any legal guidance?
Do you provide financing for the purchase of a coworking space?
Can you help buyers understand the risks and opportunities of a deal in greater detail?