What is the future of coworking, flex spaces, & commercial real estate?
In the aftermath of the COVID pandemic and an increase in corporate work-from-home policies, the commercial real estate market is due for a huge shift. Coworking and flex spaces have evolved to provide customized high-demand spaces for Fortune 500 companies, and savvy CRE investors can stay ahead of the curve by converting their portfolio vacancies to profitable coworking/flex spaces.
From desks-for-rent to outsourced hospitality for SMBs/enterprise
What do you picture when you think of "coworking"? Websites and stock photos often depict groups of young, attractive colleagues working in long rows of shared desks, sitting on couches with laptops and working in between foosball matches. But in reality, coworking — or at least that version of it — is no longer driving profit for flex space providers. The rapid growth of firms such as WeWork, Industrious, Knotel, and others now has almost everything to do with serving the basic office needs of local SMBs and established corporations like IBM and Accenture. What's been branded as a revolutionary answer to office life in the 21st century now more closely resembles a business model that's been around for decades: commercial property management.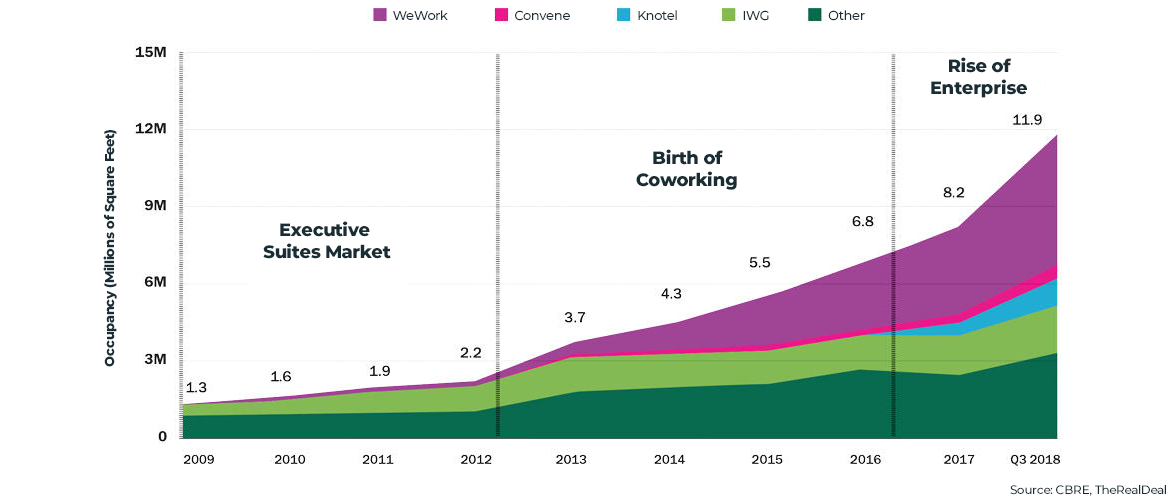 While shared office space for freelancers still exists, industry leaders say it's a shrinking portion of a location's total profit. Rather than catering to individual freelancers and small early-stage startups, the coworking/flex space industry is increasingly targeting much larger tenants.
CBRE closely tracks the coworking industry and divided its rapid growth into three distinct phases, starting with the "executive suites market," which predates 2009, the "birth of co-working," which took off in 2012, and the "rise of enterprise," which began in 2016. Insiders see the expanding business as a way to change the entire commercial real estate industry by making leases more flexible and adding more amenities to office buildings. Today, most coworking businesses are what we call "New Shared" coworking – a minority of the space is a shared collaborative shared desk area, with the majority of the space dedicated to private offices.
Coworking, CRE, and COVID
Through the beginning of 2020, coworking/flex space providers were on a the slow, steady track to overtake traditional commercial leases. As of 2020, the coworking/flex space sector has grown an average of 23 percent each year since 2010. When the COVID-19 pandemic hit, all timeframes accelerated by a decade. In the short term, struggling independent coworking spaces closed (particularly small spaces that targeted individual entrepreneurs instead of SMB/enterprises.) CRE portfolios suffered as tenants bound by traditional leases went bankrupt and broke their leases – in Q2 2020 US vacancies rose to 15% with rents down 20% year-over-year.

The more important issue is the long-term trend in commercial offices with the rise of corporate work-from-home policies. A slide from a recent JLL presentation shows the coming tide of WFH policies: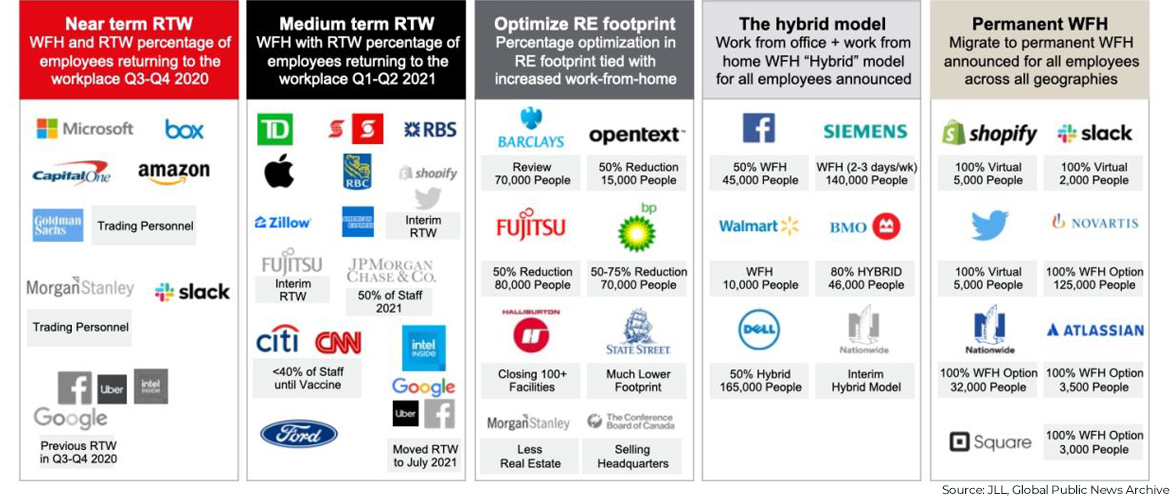 Large tenants are going to reduce or "optimize" their real estate footprint – they aren't specialists in real estate, they don't want to take on the occupancy risk, and their employees are demanding greater flexibility. That being said, those workers aren't going away. The process of finding a place to work gets shifted onto individual tenants and distributed teams – suddenly without a central location and empowered to make real estate decisions on their own – with an increasing amount of those workers going to community-oriented coworking/flexspace.
Many investors will fill their vacancies in 2021 with traditional leases to coworking/flex space companies like WeWork, who will make money by providing an in-demand layer of flexibility to companies. However, an increasing number of investors are building a flexible coworking model themselves, directly converting a portion of their square footage to flex space and profiting off the changes in the market either with a management firm like Industrious or through creating their own brand.
The future of flex space
In October 2020, Blackstone Group leased 52,000 square feet of Willis Tower (formerly Sears Tower) to the coworking operator Industrious – an early example of the conversion-to-coworking trend in commercial real estate. Industrious one of the largest coworking operations management companies – they operate the space on behalf of the landlord for a percentage of the profits (typically 30%).
CRE firm JLL predicts flex space will account for 30% of all commercial real estate by 2030, and we believe that operations management contracts will be the primary driver of this growth. Over the next decade, most major commercial buildings and campuses will devote a large percentage of available space to coworking, with large firms like Industrious running the day-to-day operations and marketing.
In the short-term, this change will happen first in tier 1 urban cores (New York, Chicago, LA) and expand outward. Although we believe smaller property firms will adopt managed flex space as a business model once it's been established with major firms, we believe there is solid growth available in most markets, with coworking property management firms available in most areas. If you are a property investor and are looking to convert retail, industrial, or office space to coworking/flex space, our matchmaking team might have a partner available to market & operate the space. DenSwap's coworking matchmaking & services can help property owners convert vacant space to coworking, paired with the right operator from our network of local and national coworking operators.