Winter is setting in and a lot of us are starting to get excited for ski season. This got the DenSwap team to be curious about coworking's potential in one of our favorite ski town, Vail, Colorado. We performed a Coworking Demand Analysis to understand how much coworking can be supported in a seasonal ski town.
Our Data-Driven Process
DenSwap's unique formulas and tool sets use the dynamic datasets that McDonald's, Target, and Starbucks use to plot out their next locations. We've used our experience of operating coworking spaces for 12 years and as market researchers to develop a process and algorithm specifically for the coworking and commercial real estate industry. The datasets uses over 67 detailed buyer and lifestyle profiles and we've correlated each profile with successful coworking markets and forward looking trends. Each profile is graded on their likelihood of joining a coworking space and the type of coworking space they would be most interested in.
All of that data is combined with other local factors (density, mode of transportation, education, etc.) that determine the likely success and size of coworking spaces that can be sustained in the area. The result projects how much coworking space can be sustained in the area the type of coworking (High-end Flex, Mid-range Flex, Executive Suite, etc) that will be most in demand.
Vail, Colorado Zip Code 81657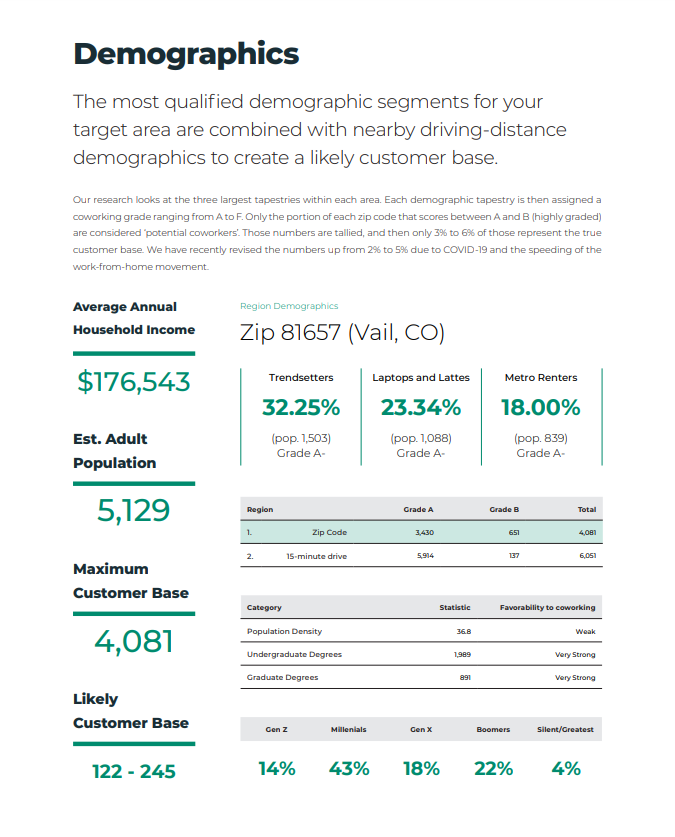 The zip code covers the picturesque European village and the immediate downtown. In a larger custom feasibility analysis we'd likely include the nearby town of Eagle, CO that would fine tune the numbers and our recommendations, but this is our quick gut-check analysis for those that need data for a quick decision. The area that we covered has a total of 5,129 and 4,081 people that would likely be able to join a coworking space. The 15-minute area surrounding the neighborhood has 6,051 people that could be potential coworking members. The likely coworking base for the Vail is estimated to be between 122 to 245 customers within the zip, but 363 within an easy drive.
The average income for the zip code is $176,543 (strong indicator for coworking success), the population density is weak for the zip code, and the number of undergraduate degrees is a very strong indicator, same with the number of graduate degrees. The split of the generations living was very skewed to Millennials making up 43% of the population, another strong indicator of success.
How much square feet can be supported?
The DenSwap team estimated 9,182 square feet of flexible office space could be supported in Vail. The recommend coworking model is High-End Flex and the suitable property types are office towers, neighborhood commercial office buildings, and a creative loft.